IAM Patent 1000 2022 | The World's Leading Patent Professionals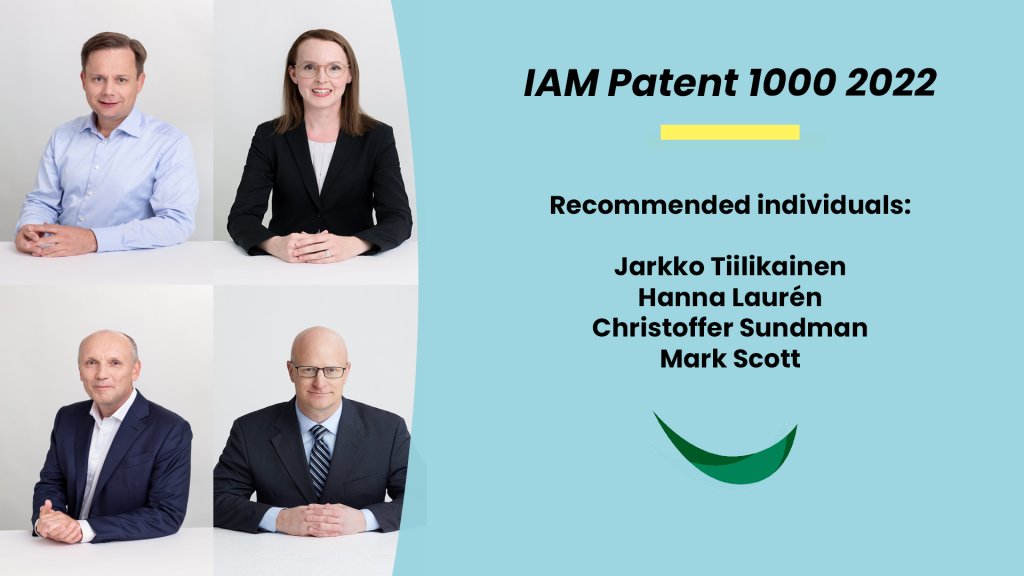 The 2022 edition of the IAM Patent 1000 (guide) has been published. We are pleased to share that Laine IP received a Silver ranking and excellent reviews in the Prosecution category. In addition, our European patent attorneys Jarkko Tiilikainen, Hanna Laurén, and Christoffer Sundman and our U.S. attorney, Mark Scott, were individually named as Recommended practitioners in the 2022 IAM Patent 1000's listing of 1000 standout practitioners across the globe.
IAM Selection Process
According to IAM, the 2022 IAM Patent 1000 is based on an extensive research process. In particular, to develop the guide, IAM interviewed approximately 1,800 lawyers, patent attorneys and in-house experts during its investigation, which lasted more than five months, in order to gather information about the leading law firms in the field. Individual practitioners qualify for a listing in the 2022 IAM Patent 1000 when they receive sufficient positive feedback from peers and clients with knowledge of their practice and the market within which they operate. A more detailed description of the method and research to generate the guide can be found at here.
Laine IP awarded Silver Ranking
In awarding Laine IP its Silver ranking, the guide highlighted that "[c]ollaboration, dedication and a passion for innovation characterises Laine IP and its crew of patent attorneys." The guide also mentions our "strong EPO practice," which includes more than 20 European patent attorneys, several of whom are Centre for International Intellectual Property Studies tutors and lecturers.
Individual Laine IP Practictioners Recommended
In addition, the 2022 IAM Patent 1000 describes our individual Recommended experts in the following words (freely translated from the citations in the guide). The original descriptions can be found here.
Jarkko Tiilikainen, an expert in our ICT/mechanics team with in-depth knowledge of the EPO's legal practices, is a "safe pair of hands" in opposition and appeal proceedings.
For FTO analyzes with a commercial perspective, the 2022 IAM Patent 1000 recommends our Chemistry Team Leader, Hanna Laurén, who impresses with her professional approach and impeccable legal knowledge.
Her colleague and "chemistry ace," Christoffer Sundman, with over forty years of experience is highly skilled at creating IP strategies and providing his clients with insights they didn't even know how to ask for.
Further, one special feature of Laine IP is its US Team based in Helsinki, of which the 2022 IAM Patent 1000 highlights U.S. Attorney, Mark Scott, as a shining star. According to the guide, Mark's previous work experience at Siemens brings an additional dimension to his activities; Mark advises strategically, keeps his clients' business objectives front and center, and is a superb choice in the commercialization phase.
Thank you to our clients
Congratulations to our team, and we all sincerely appreciate our clients continued trust in our firm and for their feedback in IAM's selection process.